Located in central Buenos Aires, the Regent Palace Hotel is 7 km from Aeroparque Jorge Newbery Regional. It offers free Wi-Fi in public areas and parking fee.
The rooms are equipped with air conditioning, heating, minibar and cable TV. The bathroom has a bathtub and hairdryer.
Amenities include business center, fitness center, meeting rooms and babysitting.
The hotel has a bar and restaurant and offers half board for up to 2 adults per room and children 8 to 12 years. The American breakfast buffet is included in the rate.
Parking is subject to availability.
The three event rooms in the Regente Palace Hotel will make your parties a guaranteed success. You can access them for free. They offer all the equipment to fulfill your needs, as well as security personnel, generators, and medical coverage. You can also make use of three parking spaces for free and you can add more with a special rate for your guests.
For your corporate events, our staff will provide personalized assistance from the very first contact to the end of the event.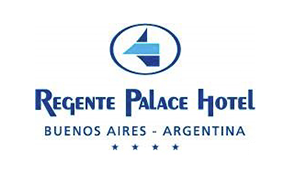 Regente Palace Hotel
Regente Palace Hotel
Buenos Aires, Argentina
Info
Suipacha 964 – (C1008AAT)
Buenos Aires – Argentina
Tel.: (5411) 4328-6800
Fax: (011) 4322-0098 / 4328-7460