THE HOTEL is located downtown Salta, within easy walking distance to major attractions. The modern tower overlooks 'Belgrano Square', only two blocks away from Salta's main square. This provides comfort for guests since all the services requested by tourists and businessmen are found in the city centre.
The Hotel
We are proud to have built this unique hotel in Salta, where our guests can enjoy the friendliness and warmth of the local staff.
Room Service
Meals and bar choices are brought to your room or suite, 24-hours round the clock, to satisfy the needs of guests who may wish to have a private meal, improvise a last minute meeting, or who are adapting to a different time zone.
24- Hour Information
Round-the Clock Information about the City of Salta, what to do, regional travelling, reservations.
Guest Services
Travel Agency and Tours – Exclusive Car Rental, with or without driver – Transportation to and from the Airport – Business Center, Secretary Services, Notebook Rental – Currency Exchange – Medical Care (on call) – Baby Sitting – Health Club – Laundry – Parking – Wi-Fi -Restaurant.
Meetings & Events
We offer the perfect facilities for your meetings and events. Our trained and professional staff will assist you in planning your event and will take care of every detail.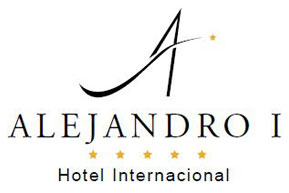 Alejandro I
Alejandro I
Salta, Argentina
Info
Balcarce 252 – Salta – (A4400EJF)
Tel: +54 387 400 0000
Fax: +54 387 400 0030