Hospital Aleman Asoc. Civil
Hospital Alemán has been working for more than 140 years to guarantee excellent healthcare for its patients, with superb experienced medical staff in different specialties that have ongoing training, and a last-generation functional and technical structure, all in accordance with today's needs.
The medical and surgical advances are ongoing as Hospital Aleman is at the level of the best healthcare centers, always offering patients fast and updated solutions.
Hospital Alemán has been recognized by the I.T.A.E.S. (Instituto Tecnológico para la Acreditación de Establecimientos de Salud – Accreditation Institute for Healthcare Providers) as a result of the excellent services rendered.
Physicians, nurses, technical staff and all workers at the Hospital Alemán do their best to ensure that patients are well taken care of.
Services
All services have state-of-the-art equipment:
Oncology Institute: houses in the same building all cancer treatment: administrative offices, radiotherapy (with line acceleration), day hospital, tumor clinic, critical care area and pharmacy.
Mother and Child Center: with independent access, it includes Pediatrics, Gynecology, Mastology and Obstetrics, Surgery and Pediatric Oncology.
Diagnostic Imaging (magnetic nuclear resonance, PET and multislice CT)
Excellence Center for Burn Treatment (CEPAQ)
Transplant Unit (kidney, liver, heart and bone marrow)
Gastroenterology Center
Large number of operating rooms
Rehabilitation Center
Dental Care Center
Emergency Center: staff on-call and on site 24/7 – all specialties
Contact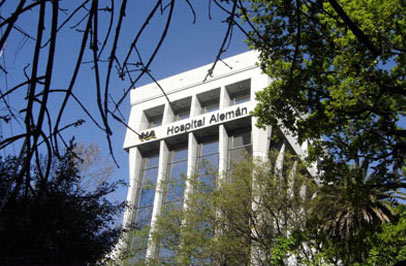 German Hospital
Deutsches Hospital
Buenos Aires, Argentina
Info
Av. Pueyrredón 1640
Ciudad de Buenos Aires
CP C1118AAT
Argentina
(+5411) 4827-700