Barneos
Barneos Argentina Incoming count with more than 10 years of experience providing quality services to Latin American travellers in the principal destinations of our country.
We have the best comercial agreements with Hotels and tourism providers, offering our customers excellent rates to visit Argentina.
An excellent coordination of tourist services, such as: accommodation, transfers and air tickets across the argentine territory it's what make us different.
Our department of Medical Tourism coordinates medical benefits for foreigners, with a rigorous process of contact between the patient and the health clinic, depending on the medical condition to treat.
Services
Air tickets
Accommodation
Private transfer with bilingual Tour Guides
Tours in Buenos Aires and the main tourist points of Argentina
Sports and cultural Events
LGBT Tourism
Religious Tourism
Medical Tourism
Regional Tourism
Out Going Tourism: Europe, United State of America; Caribbean, Asia, Brazil and South America
Online reservation system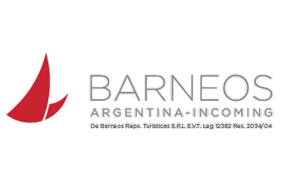 Barneos
Barneos
Buenos Aires, Argentina
Info
Paraguay 866 2 "A" Buenos Aires Argentina
(54 11) 4314-5192